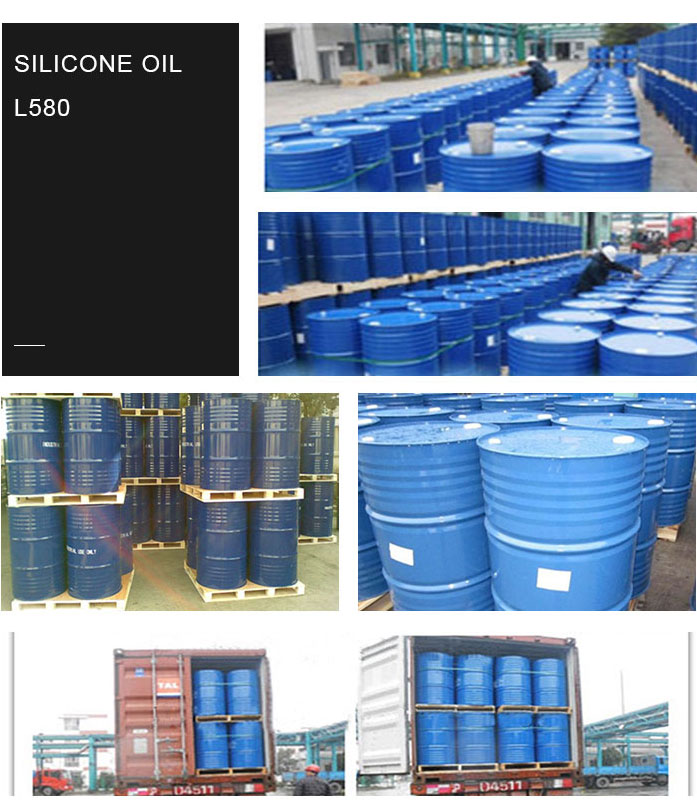 SiliconeL580
General Description and Use:
* L580 is highefficiency silicone-polyol block copolymer used in the production of polyetherpolyol-based flexible
polyurethane foams,L580 can be used in discontinuous foamproduction process(box foam) or in continuors process(slabstock).
* L580 yields aregular emulsification of the raw materials and provide the foam with thedesired regular cell

structure throught its nucleating strength.
* L580 is compatiblewith most polyol pre-blends and its superior hydrolytic insures superiorstability.
* L580 is particularlyrecommended for flexible foams having a density below 30 kgs/m3,Its efficiencyis such that

L580 allows the production of foams having a density lower than 15kgs/m3 with very limited set back.
Typical Properties:
| | |
| --- | --- |
| Test Item | Index |
| Specific gravity @25℃ | 1.02-1.06g/ml |
| | 800-1800mps |
| pH | 7 |
| Turbidity point,deg ℃ | 37-42 |
| Refraction index | 1.42-1.46 |
| Physical appearance | Slightly yellow liquid |
| Packing | 210kgs/blue iron drum |
Safety information:
Avoid breathing vapour and mist,In case of direct contactwith eyes or skin, rinse immediately with plenty of water

and seek medicaladvice,In case pf ingestion, rinse mouth our with water and seek medicaladvice.
In any case wear suitable protective clothing and do consultthe material safety data sheet of this product prior to utilization.
Handlding and Shipping Information:
Product is available in 25 kg plastic pail or 250kg steeldrum.
Product must be stored in dry,cool area away from direct sunexposure and kept away from humidity and water contamination.
Handle in accordance with good professional hygience andsafety procedures,Use in well ventilated areas.
In case of spillage,absorb substance with inert material andplace into a chemical waste container. Do prevent spil

from entering watersupplies or water courses.